Thankful- A Fly Went By by Mike McClintock
I sat by the lake.
I looked at the sky.
And as I looked,
A fly went by.
And I was hooked.  These were the words that started my adventure into reading.
Now, sure, there were stories read to us at bedtime by my Mom and Dad (and even some stories that they made up that we still remember to this day.  Bert and Herbert were a family favorite).  Both of them are performers and had no problem putting in the right passion, inflection, and character into the story to keep us interested.
As we got older, their inflection turned to encouragement.  Encouragement for discovering this world of books on our own.
We stumbled along the way.  We'd pick out a book at the library that might have been a little too advanced.  Or maybe a word that had a bunch of letters that we thought shouldn't exist being next to each other.  But they never let us give up.
For some reason though, I remember A Fly Went By was a personal mission for me to read.  I remember fingers underneath the words trying to sound them out.  I'd wonder if the pictures gave some sort of clue to what the heck was going on.  And little by little, page by page, I learned about why the fly went by the little kid just enjoying life on the side of the lake.
Little did I know my parent's true intent…. they were starting my prep for the GREs.
All joking aside, I realize this wasn't their intention.  But fast forward the video to 1:36.  Towards the end of those two pages, here's the text:
The fly does not know that the frog is not mad.
The frog does not know that the cat is not bad.
The cat runs in fear of the dog, I can tell.
If I can stop him, then all will be well.
I'm in my early 30s and I needed a second to piece that all together.  During the GRE test that I took, there was a logic section.  Questions in this section included-  If George sits next to Mary and Bob sits next to Sue but Sue sits next to Mary and there's only 5 chairs.  Where does Amy sit?
If you continue to read, it only gets worse:
The fly ran away
In fear of the frog
Who ran from the cat
Who ran from the dog
The dog ran away
In fear of the pig
Who ran from the cow
She was do big!
The cow ran away
From the fox, who ran
As fast as he could
In fear of the man
That man hear a thump
And away he ran!
It was just a sheep,
With an old tin can!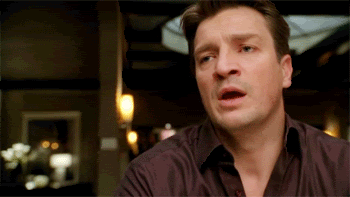 So to my parent's masterplan of starting me early into the world of logic and reason, I say kudos.  Job well done.
I need some Tylenol.
Thanks for reading…